Play park plans receive £40,000 from waste firm Viridor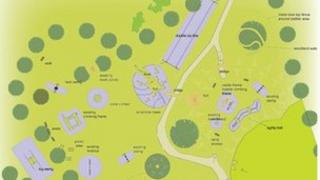 South Somerset District Council has received £40,000 in funding for an adventure park project.
The new facilities will be built at Milford Park, Yeovil, and include a zip line, lookout towers and a castle-themed climbing frame for toddlers.
Funding has come from waste firm Viridor, which runs recycling services and a landfill site near Castle Cary.
Councillor Peter Gubbins said: "We worked hard to find the funding for this exciting project."
In 2010, Milford Community Hall reopened after a £720,000 refurbishment project.
"The Milford area has been expanding for some time now with the new housing developments and there is a need that these Milford projects will fulfil," he added.
Other bodies contributing toward the play park project include South Somerset District Council and Yeovil Town Council, as well as donations from the local community.
Young people's officer at the council Steve Barnes said: "In addition to all of the new equipment, there will also be other improvements including picnic benches, fencing for the toddler play area, planting, improved pathways and a woodland walk sensory area."