Santa divers in charity quarry dive in Somerset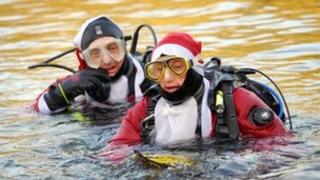 A group of scuba divers dressed in Santa Claus outfits have taken part in a charity dive at a Somerset quarry.
The 161 men and women plunged into Vobster Quay quarry pool, near Frome, to help raise funds for lifeboat charity the RNLI.
Tim Clements, operations manager at Vobster Quay, said: "We're very pleased to have beaten the record of 158 divers two years ago."
The divers braved temperatures as low as 7.8C, Mr Clements said.
"We measured the temperature at the surface it was 9.4C but at 20 metres where the divers are it is more like 7.8C," he said.
It is hoped the event has raised £10,000 for the RNLI.
The money will be used to provide the 35 lifeboat stations in the south west of England with new lifejackets.