Somerset salt thefts 'put lives at risk'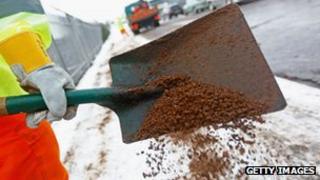 Lives have been put at risk by thieves who stole salt from the roadside, Somerset County Council has warned.
The bags of salt were dropped off in remote and hilly areas during November in anticipation of icy conditions.
The council has reported thefts in Cutcombe, Fitzhead and Crowcombe.
"I am saddened and furious," said the cabinet member for highways, Conservative councillor Harvey Siggs, who warned that he could not guarantee every bag would be replaced.
'Robust' police action
"I don't want a repeat of last year when we lost nearly 25 tonnes of salt to thefts when supplies ran low.
"The victims of these crimes will be the motorists stranded alone in the most inhospitable and remote places in Somerset, because I can't guarantee we will be replacing every stolen bag.
"I hope the thieves can live with their consciences if there is an accident and someone is seriously injured or worse.
"It would be nice to think they would quietly return it."
Insp Lisa Simpson from Minehead police station said: "By stealing the salt, the thief is compromising both the safety of residents and visitors to the area and adding extra strain to the local budget.
"This is a theft and we will deal with those involved robustly."
The county council has said it has 2,000 tonnes of extra salt in storage compared to this time last year.
Across countywide depots, 9,000 tonnes of salt is available and, if more is needed, the county council has reserves it can tap into in other parts of the country and potentially abroad.