North Somerset protesters hand in anti-youth cuts petition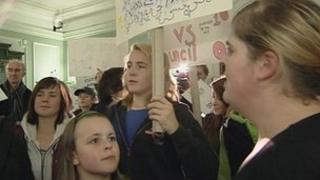 Protesters have handed a petition to fight planned cuts to youth services to North Somerset Council.
The authority wants to cut £625,359 from the service over the next two years and axe 22 youth workers' jobs.
The council claims 90% of the youth services are not well-used and the authority should focus on helping vulnerable families.
In November, protesters disrupted a debate on reducing the budget.
Members of local youth clubs marched from Weston's pier to the town hall on Monday, before handing in the petition.
The Conservative-run administration says it needs to make overall budget savings of £47.3m by 2015.