Bridgwater collapsed wall repairs to begin in new year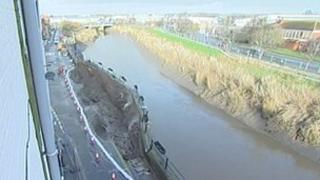 A river wall in Somerset which partially collapsed after heavy rain is to be rebuilt at a cost of £1.5m.
A section of wall alongside the River Parrett in Bridgwater crumbled after heavy rain last month and 19 properties on West Quay were evacuated.
The repairs to the wall will involve removing the rubble from the collapsed section and replacing it with concrete which will be stabilised.
It is hoped the work will be completed by the end of the summer.
The repair works will be carried out from the roadside of the partially-collapsed wall alongside the River Parrett.
It will involve stabilising the concrete with ground anchors and foundation piles, which are similar to posts.
'Back to normal'
The second stage will involve facing the damaged section with concrete panels.
Councillor Harvey Siggs said: "Our priority is to deal with the problem and let people's lives go back to normal as quickly as possible."
The decision to carry out the repairs was taken after a meeting between the county council, Sedgemoor District Council, the Environment Agency and Wessex Water.
On Thursday, the district council said residents evacuated from their homes because of the flood risk, could move back home at their own risk.