Approval to dig 115m tonnes of stone from Frome quarry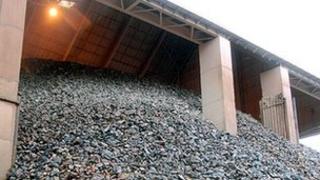 A plan to extract a further 115m tonnes of limestone from a Somerset quarry has been given approval.
Somerset County Council has allowed Torr Works near Frome to remove more stone despite concerns about the impact on the Bath Hot Springs.
Bath and North East Somerset Council fears further digging in the Mendips could lower groundwater levels which dictate the flow of the spring water.
New investment will now be made at the quarry by Aggregate Industries.
'Difficult decision'
The decision split opinion at a Regulation Committee meeting with four Somerset County Councillors voting against the proposal and four voting for it.
Councillor Derek Yeomans, committee chairman, made the casting vote to approve the application.
He said: "It was a very difficult decision. We were given assurances that the sites would be monitored and I insisted the water supply be maintained and tested so that bore holes don't dry out or water levels drop."
The proposal will also allow quarry owner Torr Works more time to remove the stone, extending their deadline by 10 years to 2040.
John Penny from Aggregate Industries, said: "[The permission] allows us to keep the existing workforce at the quarry - about 100 employees - and it also now allows us to make a big investment at the quarry.
"There is no proven link between what we do at the quarry and the Bath Hot Springs and that was explained at the committee meeting by the Environment Agency," he said.
"We are very confident there will be no impact on the hot springs."
The extra digging will mean the main part of the quarry will be deepened by 112m resulting in more stone being extracted each year.
Currently the quarry extracts six million tonnes of limestone a year. This could be increased by a further two million tonnes a year but the firm has said this will only happen occasionally, depending on demand.
A total of 34 conditions have been attached to the planning permission which covers noise levels, pollution and landscaping once the quarrying is complete.
The application is separate to the current consultation being run by Somerset County Council, called the Minerals Option Paper.
Responses to this consultation will be used to draft the Somerset Mineral Core Strategy, due to be published next year.