Fred West 'murder victim' petition rejected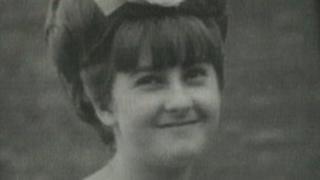 Police have rejected a petition calling for them to search a Gloucester building for the remains of a missing teenager who campaigners believe was murdered by serial killer Fred West.
Fifteen-year-old Mary Bastholm was last seen alive in Gloucester 44 years ago.
An online petition has been set up calling for Gloucestershire Police to search for her remains at a cafe where they believe West worked as a builder.
The force said there was no evidence that had not already been investigated.
The petition was set up on the 44th anniversary of the disappearance of Ms Bastholm on 5 January 1968.
'Victim of Fred West'
Its organiser, Chris Roberts, who knew Ms Bastholm, said it was "widely regarded" she was another victim of West.
He said West was a regular customer at the cafe in Southgate Street, Gloucester, and knew Ms Bastholm, and that West admitted to his children he had killed her.
Campaigners claim her remains could be buried beneath a concrete floor which West had worked on.
They say the cafe's tenant, during the time of West's arrest in 1994, told police he had found a school exercise book belonging to Ms Bastholm hidden behind brickwork, but claimed Ms Bastholm's family were not told of its discovery.
In a statement Gloucestershire Police said: "While we are aware of the strong emotions this case evokes it must be stressed that the force has not received any evidence that has not already been investigated.
'Inquiry still open'
"We can reassure people however that if there is tangible new evidence then it will be reviewed and the necessary action will be taken.
"The inquiry into the disappearance of Mary Bastholm is, like every other investigation of its nature, still open and we would still be very keen to bring closure to her family and the community."
Ms Bastholm's brother, Peter Bastholm, said he had always believed she was one of West's victims.
He said: "I would like to find out what happened. Both my parents died without knowing what happened to her."
By 15:00 GMT on Friday the online petition had received 121 signatures.
West was charged with 12 murders in 1994 and is suspected of torturing, raping and murdering an unknown number of women over a 20-year period.
He committed suicide in Birmingham's Winson Green prison before his trial.
A year later, his wife Rose was jailed for life for the murders of 10 girls and young women.