Dorset and Somerset Air Ambulance gets new lighting equipment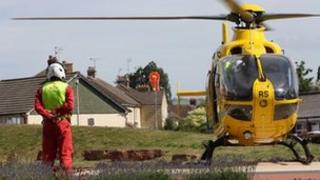 Dorset and Somerset Air Ambulance will be able to land in poorer light in remote areas thanks to new equipment.
The new equipment will offer paramedics extra treatment time with patients on the ground if needed before take-off.
Chief executive Bill Sivewright said: "By having a series of portable lighting systems, the pilot can set the site so he can take off after dark."
The charity is also deciding whether to offer a 24-hour service, but will need new technology to fly at night.
'Realistic assessment'
"It will allow us to push the hours of our current daylight flying hours," added Mr Sivewright.
The portable lighting systems will be used when the helicopter takes off and can be returned at a later date by the paramedic team on the ground or collected by the air ambulance staff.
The equipment itself will cost £600 for three sets of portable lights.
European regulations are being introduced in the UK this year to extend the operational hours for air ambulances which the charity also hopes will enable them to offer a round-the-clock service.
The change in law will mean the air ambulance can land anywhere in darkness but extra training and equipment will be needed for night-flying, such as night-vision goggles, thermal imaging and wire detection systems.
In addition to the equipment cost, the charity said it would look whether there was any demand for night flying.
"If the patients are not there, we won't do it, so we have to do a realistic assessment of how many patients we're likely to need to recover and right now those statistics are quite thin."