Call to give Olympic great Mary Rand freedom of Wells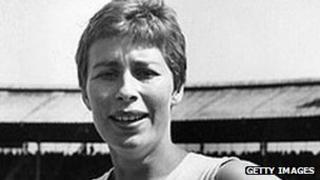 A campaign has begun to give the Olympic champion Mary Rand the freedom of the city of Wells.
Rand became the first British female athlete to win a track and field Olympics gold medal, in the long jump at the Tokyo Games of 1964.
She was born and grew up in the cathedral city in Somerset.
Campaign organiser Tony Williams said: "I feel that the council let her down in 64 - they should have given her the freedom of the city then."
Rand broke the long jump record in winning gold in Tokyo.
At the same Games, she also won a silver medal in the pentathlon and took bronze in the 100m relay.
She said: "It would mean everything to me, you know being born in Wells and to have such a great honour bestowed on me, I would be absolutely honoured."
Wells City Council, which would be responsible for handing out the honour, said it had received the application and would consider it.
The last person to be awarded the freedom of Wells, in 2008, was one of the few surviving World War I veterans, Harry Patch. He died the following year aged 111.