Concert to help Bridgwater businessman affected by wall collapse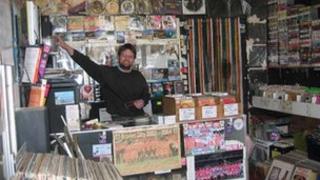 A special concert has been held to raise money for a Somerset businessman whose shop had to close after the collapse of a quay-side wall.
Adrian Fraser's record shop in Bridgwater had to shut after the river wall partially collapsed in November.
Mr Fraser, 48, who has owned West Quay Records for 22 years, said the money would go towards a "fighting fund". He hopes to reopen his shop in May.
More than 200 people attended the concert on Saturday and raised £234.
'Possibility of compensation'
Adrian Fraser said: "It was a great night and a great crowd. The money will go towards a fighting fund we're setting up for West Quay traders and residents.
"We've had meetings with solicitors and are looking at the possibility of compensation. At the moment it still isn't clear who is responsible.
"We still don't know why it happened. It sounds bizarre but we don't know who owns the wall.
"The council said they will be paying for the repairs."
Concert organiser Fay Wakefield, 25, said she had organised the event for Mr Fraser because he was a friend and had supported the town's local music and football scene for years.
She said: "We wanted to give something back to him after all his support for the town. It is up to him how he uses the money."
A section of wall alongside the River Parrett in Bridgwater crumbled after heavy rain on 5 November. Nineteen properties on West Quay had to be evacuated.
The repairs, costing £1.5m, are not expected to be completed until the end of the summer.
The decision to carry out the repairs was taken after a meeting last month between the county council, Sedgemoor District Council, the Environment Agency and Wessex Water.
The district council has said residents, who were evacuated from their homes because of the possibility of flooding, could move back at their own risk.