London 2012: Somerset towns say Olympic bunting is too expensive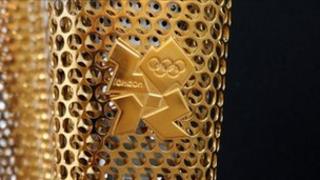 Three Somerset towns have decided not to buy official Olympic bunting for the torch relay in summer due to its cost.
Town and parish councils in Yeovil, Somerton and Ilchester have all said the bunting could cost up to £15,000.
Councillor Wes Read said: "Certainly [in] the current economic climate, I don't think it would be wise to spend taxpayers' money in that way."
London 2012 organisers have said there is no obligation for towns to use the official flags or bunting.
The official Olympic bunting, with sponsors logos, costs about £92 for 20 metres and there are restrictions over its use.
Michael Fraser-Hopewell, from Somerton Town Council, said: "I can't tell you what the route is but it's fairly obvious it's going to come through the centre of this town.
"Every building here is a commercial building so we wouldn't be able to put the flags on those buildings.
"The only building that we would be able to put it on is LloydsTSB who are one of the sponsors.
Instead, Somerton and Ilchester have opted to decorate using bunting designed by local schoolchildren as the torch passes through.
The torch relay will go through Yeovil, Somerton and Ilchester on 22 May.