Power lines at Porlock set to be buried underground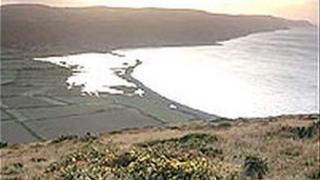 A power line within a national park in Somerset is set to be buried underground.
Western Power Distribution (WPD) wants to bury 2.5km (1.5miles) of electricity cable at Porlock Marshes, near Porlock.
The scheme, put forward by Exmoor National Park, will be funded by electricity industry regulator Ofgem.
A WPD spokesperson said: "If consent can be obtained for the scheme to proceed we hope to be able to carry out the work later in 2012."
The saltmarsh near Porlock Bay is home to a variety of birds and has been designated a Site of Special Scientific Interest (SSSI).
Dave Britenell, from Porlock Parish Council, said wooden poles and powerlines would be "very intrusive".
'Worst time'
"They get in the way of the scenery and look slightly industrial in what should be a very open marshy area," he said.
West Somerset District Council has agreed to sell the electricity distribution company the land to build a small power switching station.
A WPD spokesperson said the scheme still required "consent from landowners and other stake holders before it could proceed".
Mark Blathwayt, the manager of the Porlock Manor Estate, said the scheme had come at the "very worst time" for some landowners.
"Most people prefer wires to be underground but that work must be done when the farmer or land user is happy and not, as in this case, just after he's spent a lot of money replanting a meadow.
"This work was first suggested over 20 years ago and if it had been done last year or in four years time, the farmer would have been happy - now is the very worst time."