Yeovil man's Action Man collection may sell for £10k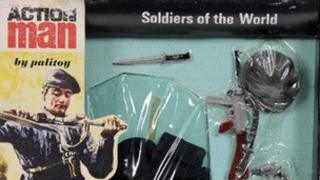 A 42-year-old man is to auction his 148-piece collection of Action Man toys, which could sell for up to £10,000.
Richard Briggs, from Yeovil, Somerset, said he had to sell the collection because he no longer had room to store it or the time to spend with it.
He said the collection was in mint condition and all the pieces were still in their original boxes.
Mr Briggs said that he would be sad to see the collection go.
The collection includes toys associated with the Action Man brand but none of the actual figures themselves.
But he added: "I know I am making the right decision and am happy in the knowledge that other collectors will gain as much pleasure from these items as I have."
Mr Briggs' passion for the toys began when he was a young boy.
He said: "I had seven Action Man figures and loads of kit when I was a child, and I was lucky enough to have a lot of Lone Ranger and Fighting Furies toys too.
"But I grew out of them, and by the age of 13 I was into computers and sport and had given away my toys, most to a children's home without hesitation."
However, later, when he was in his 20s, his interest was piqued once again and he began to collect vintage items from the Action Man range.
"By the time I was in my mid-20s I was beginning to wish I had kept a few bits and pieces as a reminder of my childhood," he said.
"Eventually I decided to collect as many of the original toys as I could - provided they were in their original packaging and had not been opened. In other words they were mint."
The collection grew across a period of 11 years, during which time Mr Briggs obtained some rare and valuable pieces.
He said: "I bought anything which met my criteria, and although some of the pieces I acquired were not always the most sought after, I managed to get hold of some very rare items."
Tom Baker doll
Mr Briggs said he never wanted to collect the Action Man figures because "most were packaged in such a way that they could be opened, handled and put back in their boxes without anyone knowing and I wanted things that, largely, were definitely mint".
His toy collection also includes rare outfits for the Fighting Furies collection of pirates produced by Matchbox, along with figures, uniforms and accessories from the Louis Marx-produced Lone Ranger series and a 9.5in doll representing the Tom Baker incarnation of Doctor Who.
Although Action Man was first manufactured and exported from the USA, Mr Briggs also amassed pieces from Italy, France, Germany and Spain.
Mr Briggs said his decision to sell the collection was in part due to its sheer size.
He said: "Unfortunately the collection spiralled out of control in terms of its volume and I do not have anywhere to store it.
"That, coupled with the fact that I do not have the time to look at the pieces very often, led me to decide it was time for us to part company."
The collection is being sold on Friday at Charterhouse Auctioneers and Valuers in Sherborne in Dorset, which has estimated the lot could sell for as much as £10,000.
A Charterhouse spokesman said it was the "fantastic" condition of the lot which made it stand out.