Burnham-on-Sea explosives arrest 'not terrorism-related'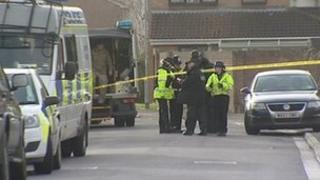 Police who arrested a man at a house in Somerset after officers executed a warrant under the Explosives Act say the incident is not terrorism-related.
A cordon has been set up around the property in Beatty Way, Burnham-on-Sea, following the raid at 07:45 GMT.
Police said the cordon was a precaution while the appropriate experts assessed any potential risk.
The spokesman said there was "no evidence at this stage to suggest the matter is terrorism-related".
He added the 36-year-old man, who police are not naming, had been arrested as a result of information received.
"As is normal practice Explosive Ordnance Disposal (EOD) officers were called and on their advice a 100-metre cordon was set up around the end terrace house.
"They then began a detailed search of the property, garden and outbuildings.
Bomb disposal team
"As a precaution we evacuated homes in the cordon and some 17 people were moved to a nearby rest centre.
"We are determined to minimise the disruption and allow people back to their homes as soon as possible," the police spokesman said.
An Army spokesman confirmed a bomb disposal team from Ashchurch in Gloucestershire had been called to the scene to support the police.
The force spokesman added: "People are advised to avoid the area to allow the emergency services the access they need.
"We will be doing everything we can to minimise disruption to people's daily lives, but public safety must be our top priority."
Beatty Way is a residential street off the B3140, the main route into the town from junction 22 of the M5.