EDF urged to consider Bridgwater bypass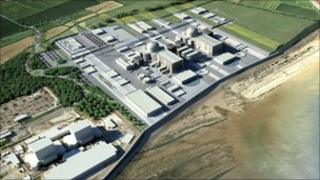 Three Somerset councils are paying for a feasibility study into a Bridgwater bypass in a bid to persuade EDF to consider financing the road.
Somerset County, West Somerset and Sedgemoor District councils want EDF to properly look at the idea as part of its nuclear plants plans at Hinkley.
But EDF said it "should not be expected to become a panacea to all of the wider public service issues in the area".
The feasibility study will cost about £86,000.
Most of the cost of the study, which compares EDF's traffic proposals to having a bypass, is being paid for by Sedgemoor District Council and Somerset County Council - 45% each - with the remaining 10% provided by West Somerset Council.
All three councils said EDF had not properly considered a bypass and therefore should not rule it out.
The county council's concerns have also been passed to the Infrastructure Planning Commission (IPC), the body dealing with EDF's proposals.
Boom and bust fears
The IPC is an independent body which deals with large-scale projects.
People or groups can register with the IPC to submit their views about the application.
In addition to concerns about the bypass being omitted from the proposals, the county council has told the IPC it is worried about increased traffic and road safety during construction, which could take about six years.
Fears of creating a "boom and bust" local economy during and after the construction, and the amount of financial support EDF plans to give the community, have also been highlighted.
Before the anti-nuclear group Stop Hinkley joined the register on Monday, it handed in a 13,000-strong petition to the IPC against the proposals.
The campaign group believes nuclear power is unsafe.
A spokesman for EDF said: "We've worked closely with the local authorities during this process and continue to do so, and have voluntarily provided millions of pounds of financial support to help them and their consultants assess our proposals.
"Much progress has been made, but it is perhaps not too surprising that, at a time when local authorities are having to make cuts to their budgets, further demands are being placed on the developer to do more."
EDF has said it is spending in the region of £500m to mitigate the impact of its proposals.