Burnham scout leader David Burland 'made boy view porn'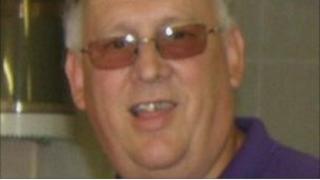 An alleged child sex abuse victim was forced by a scout leader to watch a pornographic film, a jury has heard.
David Burland, 54, of Burnham-on-Sea, Somerset, is accused of 33 sexual offences against children aged under 16 over a 23-year period.
Giving evidence, an alleged victim now aged in his late 30s told Taunton Crown Court he had been sexually assaulted as a scout and made to watch the film.
Mr Burland, whom the Scout Association has suspended, denies all charges.
'Sexual predator'
The alleged victim, then aged 14, said that Mr Burland, of Ramsay Way, had taken him back to his home after a scout meeting and had made him watch a pornographic film.
He told the jury he had not wanted to watch the film but the defendant had forced him to.
He said: "I have never felt anything like it before or since. I just wished the ground would open up."
The defence accused the witness of making up his story, to which the alleged victim said: "That's simply not true."
The charges against Mr Burland relate to a period covering 23 years from November 1987 to November 2010 and include serious sexual assaults and gross indecency.
During this time, Mr Burland worked in the scout movement in the Burnham and Highbridge area.
There are four alleged victims in total, three boys and a girl.
On Monday, when the trial opened, prosecutor Ian Fenny described Mr Burland as a "sexual predator" who manipulated his victims.
"He is skilled, he is manipulative and he hides behind a cloak of respectability," said Mr Fenny.
The trial is expected to last two weeks.