Taunton student Zac Lavers wins Sky Sports award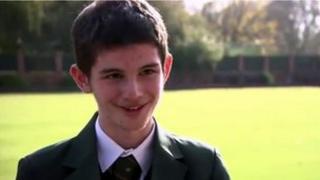 A Somerset teenager has battled adversity to be recognised as a student of the year in a national competition.
Zac Lavers, from Watchet, beat illness and being separated from his brother in foster care to win the Sky Sports Living for Sport accolade.
The project aims to help youngsters improve their education and confidence through sport.
Zac, 16, who joined a lawn bowls group as part of his recovery, picked up the South West title.
He was one of 12 students who picked up regional awards. Nick Wood, from Lancaster School in Leicester, won the overall national prize.
'Rock bottom'
The Somerset teenager battled many issues to win the award, including being diagnosed with glandular fever.
"One day I'm just a kid struggling with life, trying to get through, and the next minute I've won this national award and [I'm] being presented [it] by famous people," he said.
"Anything can be done. I was at rock bottom at the time and then I did the sport and I got back up.
"It shows that wherever you are in life, do something you enjoy and your life will improve, slowly."
Zac was only put on the initiative - which is run in partnership with the Youth Sport Trust - after his attendance at the Castle School in Taunton became poor.
The school had chosen an unusual sport for its involvement in the project - lawn bowls.
"We chose bowling because we wanted our students to be involved not only with a local sport but also working with people in the community," said Sue Marney, who put Zac on the programme.
"Nothing could have prepared us for the success that we have achieved through this."