Norovirus outbreak stops Musgrove Park visiting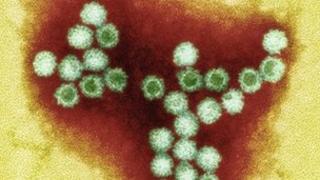 Visiting has been stopped at a hospital in Somerset for all but the most seriously-ill patients.
Musgrove Park Hospital in Taunton said like other hospitals and care homes in the area it was "struggling" with the winter vomiting virus.
A spokesman said the measures were necessary to keep its patients safe.
"We don't like restricting visiting and we know how important it is for patients to have contact with family and friends," he said.
"[The hospital has] robust procedures in place when dealing with outbreaks of norovirus.
"As soon as it is suspected the ward is closed to new admissions and transfers are stopped to help reduce the risk of spread.
"We need to keep out patients safe and protect them from norovirus and other infections," he added.
Visiting restrictions do not apply to children's and maternity wards.
Norovirus is easily spread in closed communities, such as hospitals, schools and cruise ships.
The incubation period is usually between 24 and 48 hours.
This is followed by severe and sudden vomiting, diarrhoea and fever symptoms, which last about 48 hours.