Runaway Bath dog found 120 miles away in London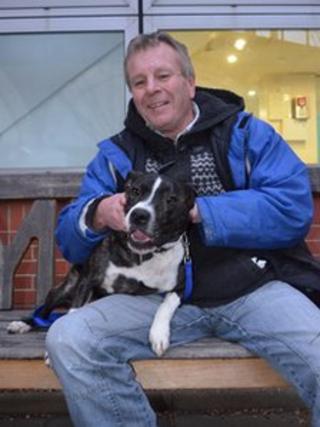 A dog owner from Bath, who had given up hope of ever seeing his lost pet again, was shocked to be told it had turned up safe and well in London.
Fido the Staffordshire Bull Terrier went missing from the family home in Lower Bristol Road eight months ago.
The two-year-old was later found wandering the streets of Kensington by police, some 120 miles away.
It was scanned for a microchip at Battersea Dogs and Cats Home where staff contacted owner, Chris Eyles.
"I couldn't believe it when I got the call from Battersea and travelled to London immediately to get Fido," said Mr Eyles.
"I didn't think I'd ever see my dog again, and it's thanks to the microchip that we've been reunited. If it wasn't for the microchip I'd never have found him.
"Fido is such a friendly boy and really popular where we live so I know lots of people in Bath will be pleased that he's coming home."
A unique identification number in the microchip, which sits just below the animal's skin, is registered to the animal and the owner's details are placed on a national database.
Last year Battersea Dogs and Cats Home took in almost ,6000 dogs, of which only 28% were microchipped.
"Reuniting owners with their lost pets is the best part of the job and I was delighted to be the one to tell Fido's owner that his dog was safe and sound," said Tracey Maskell, from the dogs home.
"I couldn't believe it when I found out how long he'd been missing and where he was from.
"We encourage all dog and cat owners to have their pet microchipped and to wear a collar and tag."