Rare plants to be reintroduced to Somerset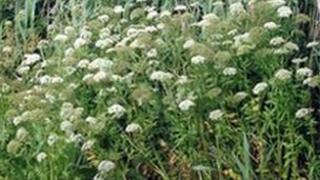 Two species of rare plant are to be reintroduced to wetland nature reserves on the Somerset Levels.
The Somerset Wildlife Trust and Bristol Zoo Gardens joint project will see the greater water parsnip and devil's bit scabious make a return to the area.
Bristol Zoo horticulturists will grow greater water parsnips from seed, before transferring them to Inaura School.
Pupils will continue to grow them before they are taken to the reserves.
A spokesman for the project said the greater water parsnip had "declined massively" in the south of the UK due to loss of its wetland habitat, while the devil's bit scabious had been hit by intensive farming.
The plants will be reintroduced to Catcott nature reserve and the adjoining Shapwick Moor reserve.
Somerset Wildlife Trust development officer Mark Steer said: "These nectar rich plants are very important for our pollinators including bees, but both are very poor dispersers, so even if good habitat is available, they are unlikely to be able to reach it without human assistance."