Somerset anti-pylon groups welcome power study results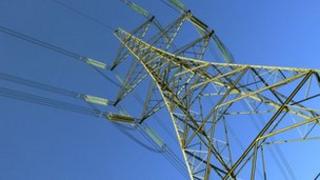 Anti-pylon campaigners have welcomed an independent study into the costs of running power cables underground.
National Grid wants to build overhead pylons from Avonmouth in Bristol to Hinkley Point in west Somerset.
In the study, the Institute of Engineering and Technology (IET) said underground cables will cost less than National Grid estimates.
But the power firm has said it will still cost £850m more than installing cables overhead along the whole route.
'Losing jobs'
The energy company wants to install the pylons to link a new power station that will be built near the existing plant at Hinkley Point with Avonmouth.
The study, commissioned in November 2010, has also examined the best applications of underground cables, under sea cables and pylons.
Report author, Mark Winfield, said: "We've come to the conclusion that over head line will cost around £4m per kilometre over its lifetime and underground cable will cost in the order of £24m per kilometre so it is something in the region of five or six times the cost to put the circuits underground compared to overhead."
However the report does not taken into account associated environmental or human impact or the visual effect pylons would have on the landscape.
Campaigners, such as No Moor Pylons and the Wells MP Tessa Munt believe the 50-mile stretch of overhead pylons would ruin the countryside and will adversely affect the tourism and leisure industry in Somerset.
Paul Hipwell, from No Moor Pylons, said: "We all want to keep the costs down, but it's not just the cost of installing, it's the cost of losing jobs in Somerset from tourism.
"Once you start weighing those environmental and social costs alongside the installation costs, we think that tips the balance in favour of going underground with the cables."
David Mercer, from National Grid, said: "If you use the IET figures, to put the whole of the Bridgwater to Sea Bank power line underground it would cost about £850m more than doing it overhead.
"Now that's an enormous amount of money and it goes on to consumer bills."
National Grid has said it will look at which parts of the routes, such as the Mendips, could go underground and final plans will be published later in the year.