Burnham Scout leader David Burland guilty of abusing children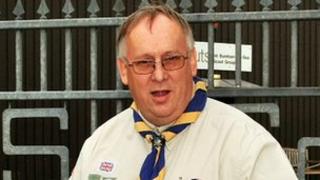 A scout leader in Somerset has been found guilty of 33 sexual offences against children.
David Burland, of Ramsay Way, Burnham-on-Sea, was convicted of carrying out the abuse over a 23-year period.
Burland, 54, worked in the Scout movement in the Burnham and Highbridge area where the offences were committed between 1987 and November 2010.
He was remanded in custody and will be sentenced at Taunton Crown Court on 10 February.
The 33 offences related to three boys and a girl.
Burland was suspended from the Scouts when the allegations surfaced.
'Open up'
Det Con Mark Fudge, from Avon and Somerset police, said: "He hid behind his role as a Scout master and hoped people would not report him.
"Someone did report his inappropriate behaviour and an investigation was quickly launched.
"This uncovered other victims and I applaud them all for the strength it must have taken to come forward. This demonstrates that we take all allegations of abuse seriously and will explore them thoroughly."
A spokesman from the Scout Association said: "Burland was suspended from any form of contact with the movement as soon as police began their investigations and he has not been involved with the movement since his arrest.
"We can confirm that he will never again be allowed to work within the Scout Movement.
"The Scout Association has co-operated fully with the statutory agencies during this case."
During the trial, one of Burland's victims, told the court how he was forced to watch a pornographic film when he was 14 years old.
He told the jury he had not wanted to watch the film but Burland had forced him to.
He said: "I have never felt anything like it before or since. I just wished the ground would open up."
The defence accused the witness of making up his story, to which the alleged victim said: "That's simply not true."
During the trial, Burland took the witness stand and denied the allegations made against him, saying they were a "complete invention".
He also told the court the allegations began when he threw out a teenager from his unit for discussing sexual issues with other younger scouts.