Taunton's Sky College receives £4m grant for rebuild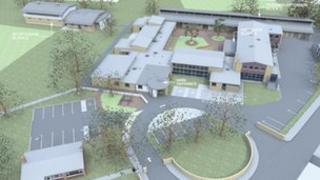 A £4m central government grant has been awarded to a special school in Somerset to rebuild and refurbish its buildings.
Sky College in Taunton teaches boys with social and emotional difficulties and is managed by a private company on contract to Somerset County Council.
Head teacher Robert Cochrane said: "Some of the buildings are getting old and it's not the most inspiring place for children to learn in."
More space will be given for vocational subjects, like sport, IT and mechanics.
'Don't give up'
The state school, formerly called The Priory School, has about 50 boys and was in special measures for three years before it was taken over by Lilac Sky in 2010 on a £1.6m five-year contract.
It was taken out of special measures in January 2011.
Mr Cochrane said: "We can have more of a focus on vocational learning, if you can get the students engaged in something then everything else will follow.
"I firmly believe if you can get them in a certain thing, be it sport, IT or motor mechanics, whether they are BESD [behavioural, emotional, or social difficulties] or mainstream students, it's important you don't give up on them."
Building work will start at the end of February and is due to take place over a series of stages and should be completed by September 2013.
The current gym and main hall will be used for a canteen and a new sports facility will include a fitness suite and changing rooms.
The plans say student residences will also be refurbished to make them more homely and pre-fabricated buildings on site will be replaced with a building containing six new classrooms to better cater for the vocational subjects.