Telephone cable stolen by thieves near Yeovil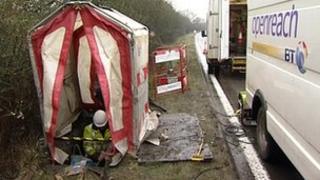 Thieves have stolen about 2,000m (6,561ft) of copper BT telephone cable, near Yeovil in Somerset.
Avon and Somerset Police said the cable was stripped from the ground, near the junction of the A303 and A3088, in the early hours of Thursday.
The theft disrupted the phone and broadband connections of hundreds of homes and businesses in the area.
BT estimated it would cost about £100,000 and take about four days to replace.
A police spokesman said: "Thieves steal this cable but do not consider the consequences to the people they steal from, in this case BT, and the knock-on effects to local business and the wider community.
"The scrap value will be low in comparison to the replacement cost and the cost to business and homes."
BT area manager Patrick Chinn said: "Not only is it costly to replace stolen cable, it puts both BT and their customers at an inconvenience."
Police are urging anyone with information to contact Crimestoppers.