Paedophile scout leader David Burland jailed for 15 years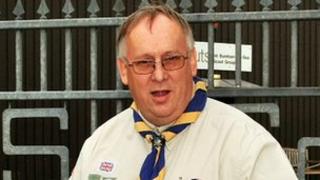 A scout leader in Somerset has been sentenced to 15 years in prison after being found guilty of 33 sexual offences against children.
David Burland, of Ramsay Way, Burnham-on-Sea, was convicted of carrying out the abuse over a 23-year period, between 1987 and November 2010.
Burland, 54, worked in the Scout movement in the Burnham and Highbridge areas, where he committed the offences.
He was sentenced at Taunton Crown Court after being found guilty on 3 February.
'Cunning man'
Burland was suspended from the Scouts when the allegations first came to light and since being found guilty the Scout Association has said he will never be allowed to work with the organisation again.
While handing down the sentence, Judge Graham Hume-Jones, said that over many years parents had trusted Burland as a scout master and a pillar of the local community, to take care of their children, but he had betrayed that trust.
Burland was also told he will be on-licence for six years, to return to custody if he commits further offences following his release after serving the 15-year jail term.
Det Con Mark Fudge said: "He's clearly a cunning man who's used his position of trust to groom these young children, the parents also trusted him and he's carried on doing what he wanted to do thinking he wouldn't get caught but he has been."
Speaking of the victims who gave evidence during the trial, Det Con Fudge, said "it took exceptional courage to stand up put their heads above the parapet".