Wind farm exhibitions to be held near planned Pilrow site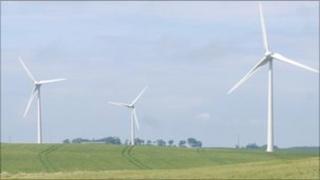 Two public exhibitions about a proposed wind farm near a village in Somerset are to be held by the developer.
Broadview Energy Limited wants to build four 130m (426ft) turbines on land east of the M5 near Rooksbridge.
Meetings are to be held at Mark and East Brent village halls on 20 February.
Campaigners against the scheme said "90% of villagers" did not want the turbines to be put up at the Pilrow site.
Developer Broadview Energy said the exhibitions would give people a chance to talk to independent consultants and to see images of what the planned project could look like.
Campaigners have organised a series of meetings in villages near the site. They will be held at Mark village hall, The Wellington Arms pub in Rooksbridge and East Brent village hall between 22 and 27 February.