Bridgwater CAB returns to flood-hit West Quay office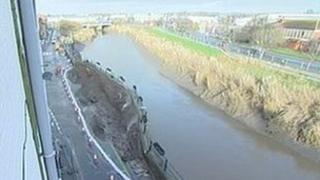 Bridgwater's Citizens Advice Bureaux, which was badly damaged by flood water last November, has reopened its doors.
The centre's basement offices, in West Quay, was under 3ft (0.9m) of water following heavy rain last year.
Spokeswoman Joan Saddington said because of the age of the building it had taken three months for it to dry out properly.
The service managed to keep going in temporary offices provided by Sedgemoor District Council.
"Some managed to get through to us on the telephones and email but people started to travel further afield to get advice from other CABs in Somerset," Ms Saddlington said .
"That wasn't good because the service is supposed to help save people money and not cost them more.
"We've got posters up in the town and have printed notices in local newspapers so hopefully people will be able to find us."