Wall-collapse trader 'may reopen' Bridgwater store early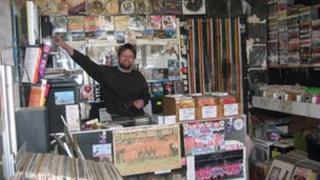 A Somerset businessman whose shop had to close after a quayside wall collapsed says he may have to reopen before repair works are finished.
Adrian Fraser, from West Quay Records, Bridgwater, said insurers had stopped paying him last month because access to the building was "no longer denied".
He said his money was running out and he had been told it now may be June before the area is back to normal.
The wall collapsed after heavy rain last November.
'Difficult situation'
Mr Fraser, 48, who has run his shop for 22 years, said he was one of a number of businesses forced to close.
"The council tells me I can now go back, but at my own risk," he said.
"It's a difficult situation... I might have to reopen before the work is finished.
"And do I put up a sign saying enter at your own risk? That's not going to be very inviting for my customers.
"We've engaged solicitors to try to get compensation - they believe we have a case - but the problem is who are they going to claim against as no-one has admitted liability?
"And other people are losing out - my landlord isn't getting rent and many living in the flats are still in council accommodation or at the YMCA," he added.
Somerset County Council said the repair work was being jointly funded between itself, Sedgemoor District Council, the Environment Agency and Wessex Water.
None are admitting liability for the damage caused.
The section of wall alongside the River Parrett crumbled after heavy rain on 5 November. Nineteen properties on West Quay had to be evacuated.