Gas fitter Andrew Hartley denies Zoe Anderson manslaughter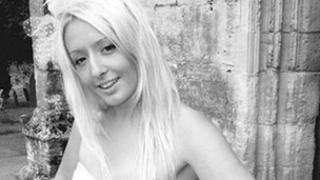 A gas fitter has told a court he felt "awful" that his work installing a boiler led to the death of a 24-year-old woman from Bath.
Zoe Anderson, the daughter of publishing millionaire Chris Anderson, died from carbon monoxide poisoning in December 2010 at her father's house.
Andrew Hartley, 36, told Bristol Crown Court he could not explain why he had not fitted the boiler properly.
He is accused of manslaughter by gross negligence but denies the charge.
'Didn't complete it'
Miss Anderson was found dead by her boyfriend in the shower room at her father's home in Lansdown, Bath, on 29 December 2010, nearly two weeks after the boiler had been installed.
At first it was thought the neuroscience graduate had slipped and banged her head.
It later emerged she had collapsed from carbon monoxide poisoning.
Mr Hartley, of Bath New Road, Radstock, told jurors that he admitted a charge of contravening gas safety regulations, which reflected his failure to secure the flue pipe with screws.
But he denied he had been grossly negligent during the installation on 16 November 2010.
Michael Fitton QC, defending, asked the defendant if he could explain why he had not carried out that piece of work.
Mr Hartley said he could not.
'Botch job'
"How did you feel about that?" Mr Fitton asked. Mr Hartley replied: "Awful."
He later added: "I didn't complete it the way I should have done because I didn't put the screws in."
Earlier in his trial the prosecution claimed Mr Hartley - who was paid more than £2,000 - did a "rushed" and "botch" job, failing to secure the flue pipe correctly, if at all.
They allege that instead of the boiler fumes going down the flue pipe to the outside, they were being blown into Mr Anderson's garage.
The case continues.