Underground cannabis factory found in Somerset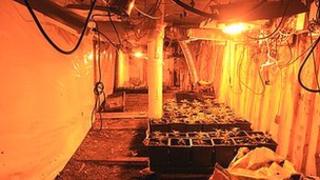 An underground cannabis factory has been discovered by police buried under farmland in Somerset.
About 130 cannabis plants were found in containers hidden under a soil mound near the village of Shipham. The plants are worth thousands of pounds.
Officers found the site using a thermal imaging camera mounted on a police helicopter. They said the factory had hydroponic equipment and running water.
A 45-year-old woman was arrested and has been bailed until April.
Police said the thermal images showed the "footprint of the concealed containers under the soil".
PC Katheryn Forrest, said: "It was a successful day - several departments from the constabulary worked together to effectively locate and dismantle an illegal drugs operation."