Caroline Meeking loses appeal against car-row killing sentence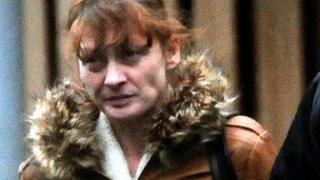 A Somerset woman has lost an appeal at the High Court against her sentence for killing her husband by pulling the handbrake during a drunken row.
Caroline Meeking, of Park Lane Barn, Illminster, was jailed for two years after a trial at Bristol Crown Court.
Her challenge was based on the grounds the trial judge had "erred" in his interpretation of the relevant road traffic legislation.
But Lord Justice Toulson rejected the argument and has dismissed the case.
Meeking, 45, and her husband Alan, 49, were on their way home to Somerset from a day's drinking in Bridport, Dorset, on 30 August 2010, when they crashed into another vehicle.
When rejecting the appeal, the judge described the case as a "tragic and most unusual case".
He added: "The appellant was immediately mortified. Those on the scene described her as hysterical."
The couple had been together for nine years. Her husband died of multiple injuries at the scene.