Painting of lioness attack in Wiltshire is auctioned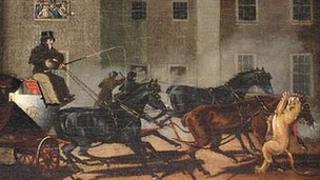 A painting which recorded an attack by a lioness on a mail coach in Wiltshire 200 years ago is to be sold at auction.
The oil painting, a 19th century copy of a James Pollard work, shows the beast attacking the Exeter Mail Coach on 20 October, 1816, near Salisbury.
The lioness had escaped from a travelling menagerie and as the coach drew up at a coaching inn in Winterslow it attacked the lead horse.
The artwork is estimated to sell for up to £800 at an auction in Salisbury.
Victor Fauvelle, from auctioneers Woolley and Wallis, said the "extraordinary event" was "so hugely unlikely that it really captivated everybody".
"The lioness had escaped from Ballard's travelling menagerie, which had stopped for the night nearby," he said.
"Two of the passengers of the coach fled to the inn and locked themselves inside, blocking the door against the remaining passenger and driver, while the mail guard, attempted to shoot the animal with his blunderbuss."
The lioness was eventually trapped under a granary and its capture was reported in the Salisbury and Winchester Journal.
The newspaper article stated: "Her owner and his assistants… made her lie down upon [a sack]; they then tied her four legs and passed a cord round her mouth, which they secured.
"In this state they drew her out from under the granary, upon the sack, and then she was lifted and carried … the lioness lay as quietly as a lamb during her removal to the caravan."
After the incident, the injured coach horse was bought by the owner of the lionness and displayed "with its wounds" alongside the recaptured lioness.