Letter found in secret compartment at Tyntesfield House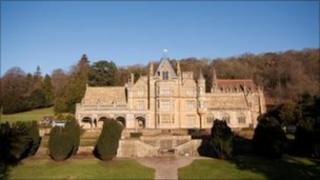 A letter of thanks written by Lord Wraxall, the former owner of Tyntesfield House in North Somerset, has been found by the National Trust.
On a recent visit Lord Wraxall revealed he had written the letter in 2002 and placed it in a secret compartment.
Signed by six Gibbs family members and put in a cupboard, it reads: "The Gibbs family leaves this as a memento of 160 years spent happily at Tyntesfield."
It will now be added to the catalogue of some 50,000 items from the estate.
Although the National Trust suspected a hidden compartment in the cupboard, curators had not tried to open it and the letter, dated 30 July 2002, went unnoticed.
The accumulated items which describe the Gibbs' family life range from fine ceramics, textiles and ornate books to everyday items including Tupperware and televisions.
A National Trust spokesman said Tyntesfield had the largest recorded number of items ever catalogued by the trust.
The Victorian country house was created by one of England's richest commoners, William Gibbs, who built his fortune on fertiliser.