Somerset coast chosen for wildlife-rich wetland area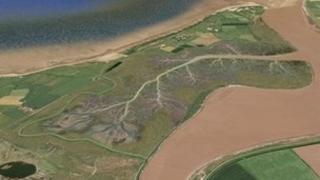 One of the UK's largest wetland areas is to be created on the Somerset coast.
Sedgemoor District Council has given permission for 400 hectares (988 acres) of the Steart Peninsula, near Bridgwater, to be turned into wildlife-rich wetlands over the next two years.
The scheme will provide vital feeding and breeding grounds for wildfowl and protection for Steart village against flooding from the River Parrett.
Construction of the wetlands and flood defences is due to start this summer.
The joint proposal by the Environment Agency and the Wildfowl and Wetlands Trust (WWT) is part of a wider scheme to create up to 600 hectares of wetland habitat in the Severn Estuary over the next 20 years.
The habitat creation is to compensate for the loss of existing saltmarsh and mudflats through rising sea levels and the construction of coastal flood defences.
The government has an obligation to meet these targets and could face legal proceedings if it fails to create enough new coastal wetlands.
'Useful landscape'
Martin Spray, from the WWT, said: "Sea level rise is affecting both wildlife and local communities as it squeezes wetlands along our coast.
"But thanks to the Environment Agency, we have this opportunity to create a productive and useful landscape that will help us face these challenges and bring benefits for people and wildlife."
The plans also include better flood defences for the main link road, Steart Drove, which links the hamlet to its neighbouring communities.
Even though the land will be flooded, it can still be used at certain times of the year for grazing livestock.
Dick Best, from the Steart Residents Group, said: "Although this is a habitat creation scheme, some issues are an absolute priority to us - the safety of our homes now and into the future, the access to the village and the preservation of the tranquillity of the peninsula.
"The creation of this threatened habitat is to be welcomed and I look forward eagerly to seeing the results."
The Severn Estuary is internationally important for waterbirds and the project will benefit a number of species including shelduck, dunlin, redshank, avocets and wigeon.
The site will be owned by the Environment Agency and managed by the Wildfowl & Wetlands Trust.