Mells village Diamond Jubilee bridge nears completion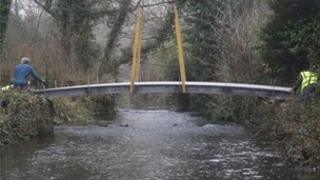 Steel work for a new Diamond Jubilee footbridge has been hoisted into place across a river in Somerset.
An oak balustrade will be added to the structure in Mells next week.
The £18,000 bridge was funded by a Big Lottery Fund Awards for All grant and is part of an ongoing regeneration project in the village.
It will be named White Bridge and is to be officially opened on 2 June as part of the celebrations of the Queen's Diamond Jubilee.
A Mells Parish Council spokesman said the structure made a "fitting centrepiece" for the jubilee celebrations.
The footbridge was designed by villager John Mann and will be the sole crossing over the river in the centre of Mells.
The bridge and nearby footpaths are currently closed to the public while the construction work is completed. It is hoped that it will be opened unofficially in time for Easter.