Somerset student raises sheep to pay university fees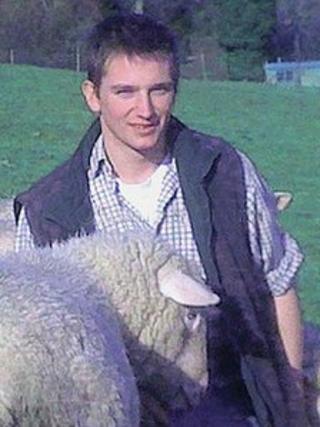 A 19-year-old student from Bridgwater in Somerset is raising sheep to help fund his way through university.
Tom Coate, who studies at the Royal Agricultural College in Cirencester, was given two sheep as a birthday present five years ago and has since built up a flock of 25 ewes.
He has made more than £2,000 towards his tuition fees and been short-listed for Agricultural Student of the Year.
He said rearing and selling sheep had "eased the burden a bit" for him.
The teenager, who previously had no background in farming, was given the two pregnant Poll Dorset ewes by his parents on his 14th birthday.
"A day after my birthday, they lambed and I decided to take it from there and build up my own flock," he said.
"I've built it up now to a flock of 25 and each year I sell about 30 lambs - I sold some lambs last week that made £90 each."
The lambs sold this year have contributed towards the cost of his tuition fees - a strategy he intends to repeat next year.
"I have to check up on them a minimum of every three weeks and Mum keeps an eye on them when I'm away," he said.
"If there's any problems she has to give me a ring and I have to shoot home.
"But I am proud of my small flock."
Tom is one of four finalists in the Agricultural Student of the Year Awards 2011-12. The winner is due to be announced at the beginning of April.