Three Somerset schools merge in bid to improve results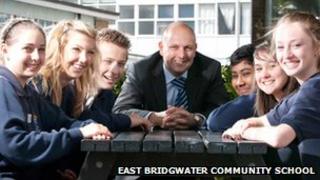 Three schools in Somerset are to merge to form an academy for children aged from three to 16.
East Bridgwater Community School will join with Sedgemoor Manor Junior and Infants schools to become Bridgwater College Academy from September.
The move is designed to improve results at East Bridgwater Community School which has not met attainment levels during its 50 year history.
The academy becomes the second "all-through school" in south-west England.
'Deprivation'
Executive head teacher Peter Elliott will run the academy which will have more than 1,200 students.
He said a "common theme" in the three schools was a low level of literacy - speaking, listening, reading and writing - and that the schools served an area of high social disadvantage.
"There is a very strong correlation between deprivation and standards of outcomes in education - the challenge for us is to break that," he said.
"To say that just because you come from a background that is less affluent, doesn't mean you don't do so well at school."
East Bridgwater Community School opened in 1962 and has never met the minimum expectation placed on secondary and junior schools in English and maths.
Mr Elliott said the current year seven profile indicated that the typical student was a year and a half behind their "chronological expectations".
He believes the solution lies within a joined-up approach - across the three schools - to provide a greater capacity to work towards those challenges.
Dartmouth Academy, in south Devon, became an "all-through school" two years ago and its principal - Nick Hindmarsh - said the change had been difficult.
"The hardest thing is trying to create the idea of a single entity, where it's not 'your school/my school' but it's our school. They are our students," he said.
"In a way we are challenged by that at the moment because we are still physically the same two schools - the old primary school and the old community college."