London 2012: Olympic sculptures in Bath to go on show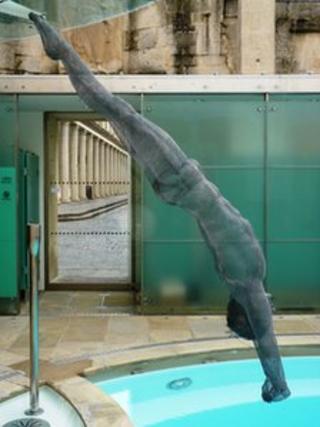 Eight life-size Olympic-themed sculptures are to be installed in public spaces in Bath city centre ahead of the London 2012 Games.
Works of art will include a sculpture of the torso of former Olympic swimmer Mark Foster and a wire statue of Olympic runner Jason Gardener.
The project is part of the wider Olympic celebrations and will form part of a walking tour around the city.
Organisers say the temporary display will begin in May and end in September.
The statues will be put up at locations including Parade Gardens, Stall Street, The Circus, Bath Street and Pulteney Weir.
Artist Justin Braithwaite, from Art at the Edge which is behind the project, said: "Members of the public will be able to see some dramatic and interesting sculptures on a scale that people can engage with, in some very surprising places."
The plans were approved by Bath and North East Somerset Council earlier.