Somerset businesswoman builds homes for vulnerable people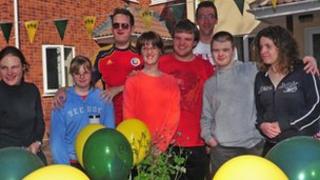 A businesswoman has turned builder in a bid to help vulnerable people live more independent lives.
Inspired by her severely disabled daughter, Jane Morgan has built nine houses on land she owns on Ditton Street in Ilminster, Somerset, and has sold them to the Yarlington Housing Group housing association.
The properties are now being rented out to 11 people between the ages of 23 and 31.
Ms Morgan's 25-year-old daughter Amy was born with brain damage and she wanted to make sure she was never forced to live in an institution.
Amy has severe learning and motor difficulties. She also cannot read, write, or dress herself, and needs someone with her at all times.
"She has no specific label that we can apply to her," Ms Morgan said.
"There was virtually nothing where she could live independently. There were some shared houses... but it was still an institution, just under another name.
"I got permission for the houses to be built. I thought it's important that I do this for Amy and for others.
"This was an opportunity that was never going to come up again."
The development is seen by Ms Morgan sees as half way between unsupported living and living in specialist accommodation.
"It has been great to be part of Jane's vision and to help it become a reality", said Roger Powell, chairman of Yarlington Housing Group.
"We have all been inspired by this project and by these wonderful young people whose lives now hold such a better prospect."
The project consists comprises of nine houses, a courtyard and shared gardens.
"It's a two-bedroom house with an upstairs and a downstairs toilet," said Mike, one of the young people who lives in one of the houses.
"I like living here. I can do what I want. There's nobody telling you what to do [and] it's more freedom than I had before."
Ms Morgan built the homes on land next to her old petrol station, which she sold to Tesco in 2008. She used the funds from the sale for the project.
'Not ideal'
But some critics have said the scheme risks grouping vulnerable people together rather than integrating them into society.
"It is not ideal," said Rob Greig from the National Development Team for Inclusion, a not-for-profit research group based in Bath.
The former national director of learning disabilities for the government added: "I think what Jane Morgan has done needs to be applauded because there is a real and significant problem around lack of housing opportunities for people with learning difficulties.
"My only concern is that it could have been done in different and better ways.
"If you have a large number of disabled people living in one place, the wider community risks looking at them as a complete homogenous group.
"[They can see] the label of a disability rather than seeing a group of individuals who actually want, and can live, independent lives in the community."
It is a concern that Ms Morgan also initially shared.
"This is why I originally thought we could do this with four houses and use the rest for general needs," she explained.
"The problem with that is you can't guarantee who your neighbour is going to be. That makes vulnerable people even more vulnerable.
"This is different. It's in the town centre, you can walk anywhere. Everybody is enabled to have totally independent and separate lives.
"They don't live in a home. They live in a home of their own."