Langford Budville village hall built after 30 year wait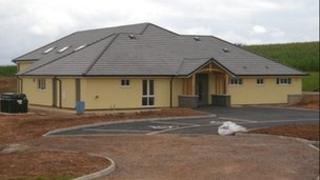 A village in Somerset has finally got a hall, 30 years after fundraising began.
It has taken three decades to find the right site and raise enough money, but builders have now completed the site in Langford Budville and handed over keys.
The village, near Taunton, has not had a community facility since the former working mens' club closed in the 1960s.
It is hoped the hall will be in use by early September although an official opening will not take place until October.
'Focal point'
The project has been funded through a £500,000 lottery grant, £120,000 from local fundraising, and finance from Taunton Deane Borough and Somerset County councils.
The chairman of the village hall committee, Keith Moore, said he hoped it would be a "focal point and a community centre" for the village, which has a population of 473.
"The hall will make an enormous difference not only to the village but to the surrounding community by providing a focal point for a whole range of activities, some of which have had to take place outside the village up 'til now," he said.
"The hall will be used by the village school, and inquiries have already been received for pilates, line dancing, bridge and film clubs, and other activities, and we have just taken our first wedding reception booking."
The community was the only one of comparable size in Somerset without a village hall.
During construction, pupils from Langford Budville Church of England Primary School buried a time capsule beneath the floor of the hall.