EDF and Ecotricity consider wind farm decision appeal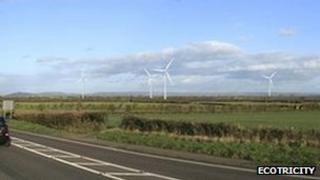 Two companies behind plans for a new wind farm in Somerset have said they are likely to appeal against a decision to reject their applications.
Sedgemoor District Council turned down the proposals for the turbines on the Levels by a vote of nine to four.
David Garry, from EDF Energy, said: "We've really invested a lot of time and effort in this site and we have to review where we are.
"We do think the site is well suited to the proposal we had."
Ecotricity wanted to put four turbines at Black Ditch on land to the south of Poplar Farm in West Huntspill.
The application from EDF Energy involved putting up five turbines at Withy Farm in East Huntspill.
Officers recommended approval for both applications because they "would not significantly undermine the character or appearance of the local landscape".
"We've done our job if we managed to get an officer's recommendation," said Mr Garry.
'Strong case'
"That proves we've done everything by the book."
A spokesman for Ecotricity said: "We are still confident the site is a highly appropriate one to harness the power of the wind. There is certainly a strong case to appeal against the committee's decision."
Hundreds of local people fought a campaign against both applications on the grounds the turbines would be too high and too close to homes.
At the time of the applications being rejected, Bob Filmer, chairman of the council's development control committee, said: "Our view is when you look across the Sedgemoor area, it is a very flat landscape with very few other features in it that would complement a wind farm.
"There are other areas in Sedgemoor that can deal with wind farms, and we've had solar parks here too, so we are looking at the appropriate forms of generation in the appropriate locations."
Gordon Boyer, who runs a dairy herd at Withy Farm, had agreed to have a turbine on his land.
He said not everyone was against the proposals.
"When the project kicked off I spoke to friends and residents and they said where I am in relation to the turbines is well out of the way and they didn't have a problem with it," he said.
"The development would have been enough to save my dairy farming for the next 25 years.
"Because this has been turned down there's a very good chance it's too late for my dairy and I will have to sell the herd."