Ian Botham's mother dies at Yeovil District Hospital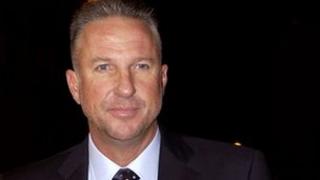 The mother of cricketer Sir Ian Botham has died in hospital in Somerset.
Sir Ian, 56, called off planned celebrations for the end of his latest charity walk to allow him to visit his critically ill mother, Marie.
The 85-year-old died at Yeovil District Hospital on Saturday night surrounded by her family.
Mrs Botham was a parish councillor for more than 12 years, and was also a member of the Yeovil and District branch of the Royal British Legion.
Yeovil Without Parish Council chairman Barbara Strong, 84, said: "She was quite a character. She had a terrific sense of humour and was quite sharp."
Sir Ian recently walked 160 miles (260km) from Glasgow to London for Leukaemia and Lymphoma Research.
Nicknamed Beefy, he began playing for Somerset County Cricket Club's first team in 1974.
An all-rounder, he made his Test debut for England in 1977 and was appointed captain in 1980.