Wet weather hits Somerset asparagus crop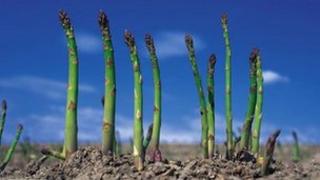 A Somerset asparagus grower has said this season's wet weather could destroy as much as 20% of his crop.
"We've hardly had a warm sunny day. The whole of April has been a nightmare," said grower William Hebditch from New Cross Fruit Farm near South Petherton.
"[It's] the worst I've seen in my whole growing career, which started in the mid-1970s."
New Cross Fruit Farm has been a specialist fruit farm since 1948, run by the Hebditch family. Mr Hebditch and his wife, Liz are second generation growers.
They farm fruit and asparagus on 170 acres in the hills south of the Somerset Levels but this year, because of the weather, things are not looking good.
'Exhausted' with worry
"I'm exhausted just with the worry of it. You hope that every day is going to be better but everyday seems to be equally as bad," he added.
Mr Hebditch has invested heavily in covers for a third of his 150,000 crown, 15-acre asparagus crop. He said the remaining two-thirds "is very poor" so far.
"We're cutting 20% of what we'd normally expect to cut from the uncovered crop. The covers have been an absolute saving grace for us."
It is not just the asparagus that Mr Hebditch is worried about, his fruit is also starting to struggle.
"The apples, plums and cherries are in flower now and there's just been no weather for the bees to pollinate them.
"It just doesn't happen in this sort of weather and that means no crop. No fruit. It's deeply concerning this year."
Mr Hebditch said the only way to save his crop was to get some "nice warm weather" before the asparagus growing season ends on 21 June.
BBC Weatherman Ian Fergusson said: "In the shorter term it'll turn cooler into the bank holiday weekend and where skies clear inland, there is a threat of frost.
"However, towards the end of next week and into the latter stages of May there are some hints of drier, more settled conditions developing."
Figures from the Met Office show April was the wettest April in the UK for over 100 years , with some areas seeing three times their usual average.