Spain honours Somerset woman's relative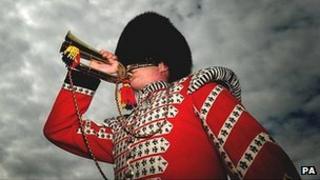 A Grenadier Guard who fought for the Duke of Wellington has been honoured with a memorial in Spain.
Lt Col John Scrope Colquitt of the First Foot Guards died of fever after fighting Napoleon's troops during the Peninsular War, 200 years ago.
Sam Westmacott, from Watchet, Somerset, found out she was a relative when a local history group contacted her.
She said it was "fantastic the Spanish people are honouring this relative of mine that I did not even know about".
The 10,000 euro (£8,175) monument was unveiled at Alcala de Guadaira, near Seville, at the site where Lt Col Colquitt was buried.
Members of his family joined local dignitaries and representatives of the Grenadier Guards.
'Mixed emotions'
As the memorial was inaugurated, L/Cpl George Vickers of the Grenadier Guards played the Last Post on the bugle wearing full regimental uniform.
He said: "It went spectacularly and there was a lot of expectation because in a place like Alcala de Guadaira people have never seen something like this before.
"There seemed to be mixed emotions, at first there was confusion about what was going on, but also a lot of respect."
Psychologist and author Mrs Westmacott (nee Colquitt-Craven) only discovered she was Lt Col Colquitt's cousin five times removed when a local history group investigating his story contacted her.
Speaking after travelling from Somerset for the ceremony, she said: "I had the feeling that John Scrope Colquitt was stretching out at us over 200 years of history.
"He is a symbol of what is really good about the British military, the idea that men serve their country in order to protect what is good against what is evil.
"The rediscovery of his story has brought together a big family group which had lost touch with each other."
Spain is commemorating the bicentenary of events in the Peninsular War, which pitted the allied nations of Britain, Spain and Portugal against Napoleonic France and lasted from 1808 to 1814.
The Grenadier Guards was formed in 1665 and is the most senior regiment of the infantry in the British army.