John Reynolds' new record bid for miles run in a week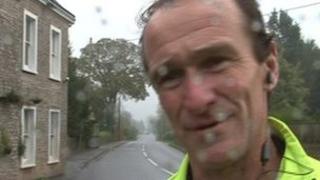 A Somerset runner hopes he has set a new world record for the number of miles run in one week.
John Reynolds, 50, from Radstock, believes he has equalled the previous world record of 408 miles in seven days with 21 hours of running time in hand.
"I feel absolutely fantastic. It just shows sometimes impossible dreams can come true," he said.
Mr Reynolds took on the challenge in a bid to raise £50,000 for the Children's Hospice South West.
His route took him from Radstock through Keynsham, Chew Valley, Bristol, Wells, Shepton Mallet and Bath.
Olympic torch
He repeated the circuit continuously, taking only short breaks, for seven days.
"I'm really looking forward to my bed tonight," he said.
Previously he has taken on a number of challenges in support of the hospice, including 22 half marathons, four full marathons, 24 ultra marathons of more than 54 miles and six extreme marathons of more than 100 miles.
He was motivated to start fundraising after suffering a severe illness eight years ago.
While he was receiving radiotherapy treatment for a thyroid condition at the Royal United Hospital in Bath he found himself face-to-face with children having the same treatment for life-limiting conditions.
He said he found their bravery inspirational and began to raise money for the hospice.
He has also been selected to carry the Olympic torch through Frome on 22 May in recognition of his fundraising work.
Guinness World Records has yet to verify if the record has been broken.