Tonnes of sand moved for Weston sculpture festival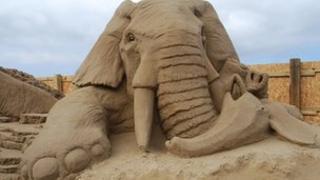 Work has started to move some 4,000 tonnes of sand along Weston-super-Mare's beach ahead of the town's sand sculpture festival.
The annual event had been under threat after North Somerset Council said it could no longer fund the festival.
Organisers Nicola Wood and Alec Messchaert said local firms had come forward to donate goods and services.
"Sixteen sculptors have flown in and they are being put up in local hotels for free," Mr Messchaert said.
"We've also had donations of equipment from hardware stores," he added.
'Natural movement'
The sand is being moved by tractors and trailers from the Uphill end of the beach to the site, close to the aquarium.
"We can't dig it all out here as it would leave a huge cavity on the beach," Ms Wood said.
"Also, because of the natural movement of the beach, a lot of the sand ends up at the Uphill end.
"As the sand has to be brought down to this end anyway, we're asking them to bring it here so we can use it for the festival before it starts its drift up the beach again.
"We're looking to raise an area about 100m by 30m up to the sea wall height and then big blocks of sand will be compacted on to the top of this platform so it can be carved into sculptures," she added.
The exhibition is due to run from 1 June to 9 September.