Children rescued after flat fire in Weston-super-Mare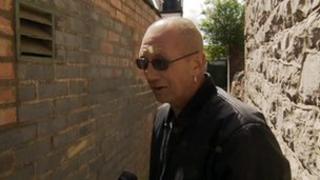 Three children, aged between seven and 15, were rescued from the roof of a property in Weston-super-Mare after fire broke out in their flat.
Fire crews were called to Ashcombe Road on Monday evening following reports three children were trapped on a roof.
The children were helped onto an adjoining roof and led to safety by Dave Evans, who lives nearby.
The fire is believed to have started accidentally when a gas cylinder was being changed in the ground floor flat.
Mr Evans said: "I don't think I was really a hero - well I suppose in a way I was - but I didn't do it to be a hero.
"My main concern was getting the children out."
The female occupant of the flat was led to safety by firefighters.
An Avon Fire and Rescue Service spokesman said it was believed a spark ignited the gas cylinder while it was being changed which then set fire to a nearby sofa.
"The occupants of the first floor managed to get out onto a flat roof at the rear of the property as their normal exit was blocked," he said.
The fire service previously said the children's mother had been rescued from the roof but later confirmed she had not been in the flat at the time.