Somerset barn owl nest box project success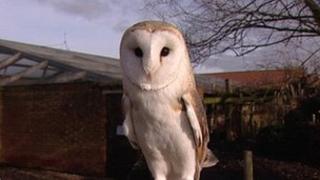 More than 90 nest boxes have been put up as part of a project to help boost barn owl numbers in Somerset.
The Somerset Community Barn Owl Project began in March and aims to put up 334 boxes in total, with at least one box in each parish by the end of 2014.
Chris Sperring, from the Hawk and Owl Trust, said: "It just shows you how much care there is among farmers and landowners out there."
The Hawk and Owl Trust is working with Somerset Wildlife Trust on the project.
Environmental charity Viridor Credits contributed £83,000 towards the cost of the scheme.
The total cost of the project was £140,000.
So far there have been more than 400 inquiries from people who want to have a nest box on their land.
Improve biodiversity
Wildlife experts believe it could take up to 18 months before a barn owl moves into a nest box.
But there have been reports of the birds moving into nest boxes within a month.
Mr Sperring: "What we're doing is to encourage farmers and landowners to try and create the right conditions for barn owls to come back to, so that is creating rough grassland margins as that's where the food lives.
"The food is the short-tailed vole, so we need to create the rough grassland to help the vole increase in number, that then brings the barn owl in, they find the nest box and move in."
The project also aims to improve biodiversity and increase the number of breeding pairs.
"During all the bad weather [in April] we were predicting that owls would be affected but it seems they've compensated by hunting more during the day time if it's been raining at night," added Mr Sperring.
"So the number of owlets being produced is still about four or five at our sites, which is pretty good."