Royal United Hospital cancer centre campaign announced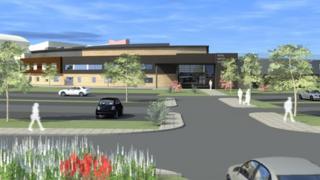 Plans to raise millions of pounds to help build a new cancer treatment centre at the Royal United Hospital (RUH) in Bath have been announced.
The Forever Friends Appeal wants to raise more than £5m towards the £20.5m centre over the next four years.
The Medlock Charitable Trust has already committed £1m to the centre, the hospital's biggest ever donation.
About £650,000 has also been raised so far for a specialist scanner, with match funding in place.
David Medlock, from the Medlock Charitable Trust, said: "My family has used the RUH and my children were born at the RUH and my father was treated there, my mother, who passed away two years ago, has benefited from the services of the hospital.
"It's only right and proper that if we can, we are able to help."
The Forever Friends Appeal says the RUH treats more than 2,000 new cancer patients every year.
The spokesman said: "Whilst the level of clinical skills offered by the medical team at RUH are amongst the best in the UK, the buildings for much of the existing cancer services date back to the early 1940s when they were hurriedly constructed for World War II service personnel."
The cancer centre is hoped to be completed by about 2017.