Diamond Jubilee: Stained glass window unveiled in Gloucestershire church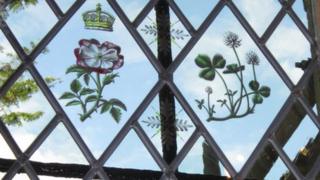 A stained glass window to honour the Queen's Diamond Jubilee has been installed in a Gloucestershire church.
The glass will be unveiled later in a service at Little Barrington church in the Cotswolds.
It features images of the four flowers of the UK - a rose, a daffodil, a thistle and a shamrock.
The window was made by Bettina Copperman of Canterbury Cathedral's stained glass studio and was paid for by donations from locals.
The Reverend David Ackerman said: "It will be seen by generations to come as a tribute to the reign of Her Majesty the Queen as well as an impressive addition to an historic church."